One of the consequences of life in the Pacific Northwest is that one's self is much more likely to start drinking. Coffee. One of coffee's side effects is a propensity to ride fat-tire bikes in December over frozen things such as horse poop, discarded Starbucks cups, and the Puget Sound. Okay, okay. The Puget Sound doesn't freeze, but you can still ride across it in high style and comfort by means of the Washington State DOT Ferry system.
There's a nifty shared-use trail system in Port Gamble, WA that I found whilst online. I decided that Senor Jiggles and I needed male bonding time and some noteworthy adventures, so I pumped the tires to 20, loaded up on food, water, and warm clothes, and took 6 hours yesterday to meander my way there and back again.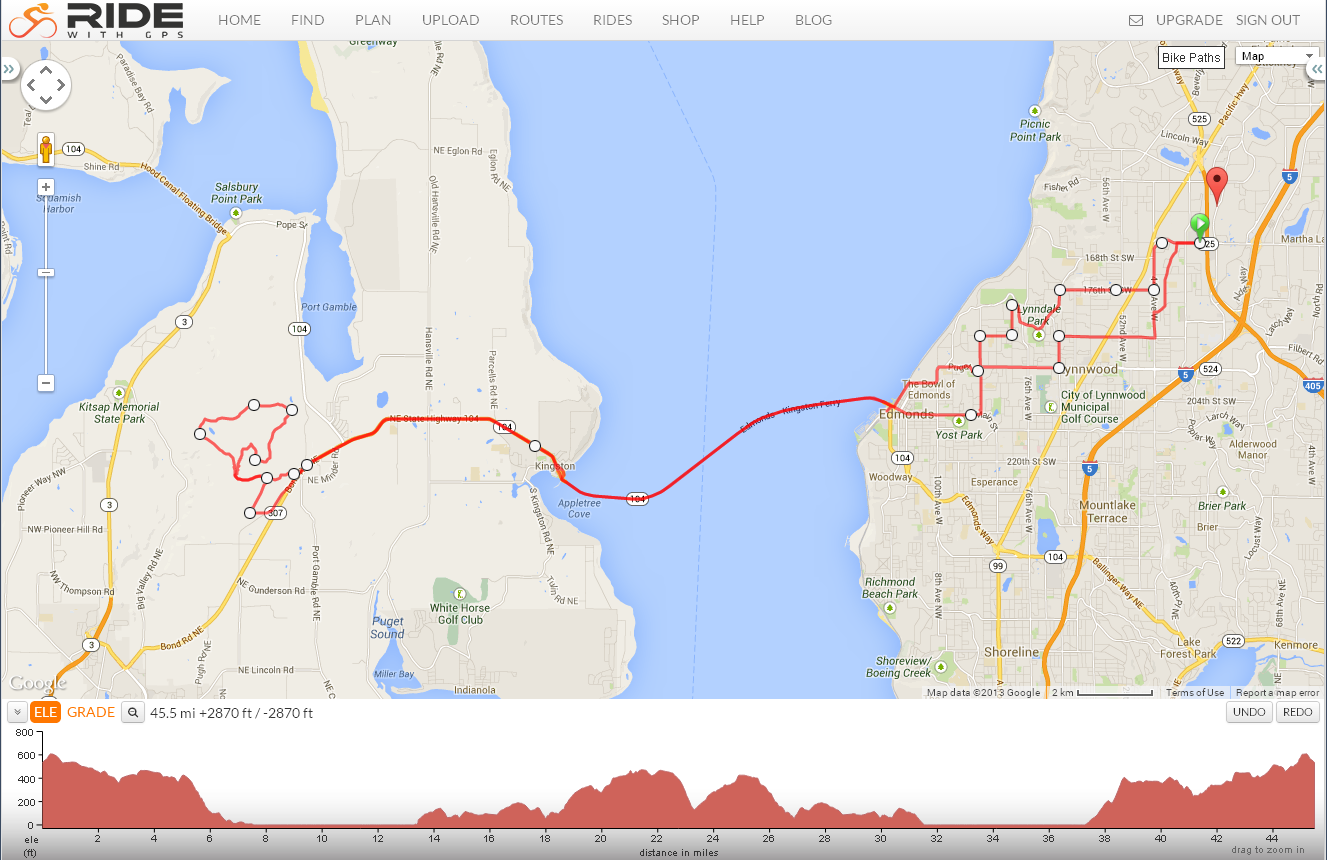 Perhaps meander really isn't the right word for it, as I was pushing hard in both directions to catch the ferry. Each time, thankfully, I made it with about 5 minutes to spare. It is an awesome experience to board a ferry while riding your bike. Especially when you, like myself, are a land-dwelling critter who has never been on a sea-faring vessel larger than, say, a modest recreational boat.
I was so excited to approach this massive, rumbling monster, that I nearly missed the chattering over the crew's radios about the "…size of the tires on that bike!". I was able to ride up and over the rest of the cars to the very front of the ferry, where they have dedicated bike parking and ropes to lash your bike to the wall. From there, I found my way to the upper deck, where I was surprised to find a spacious, heated area with a cafeteria. Wandering to the front of the vessel, I discovered you are allowed to go outside on an exposed deck with railings to take in the surroundings.
Before I could take it all in, I noticed the wind had picked up from the front of the ferry. We had begun moving, and without me realizing it, we had sailed several hundred yards from the dock. I was the only passenger who spent the entire trip watching the water, sky, and surrounding mountains from the outer observation deck. In my solitude I became very present in the situation and just enjoyed every little thing that was available to me, including what I think was a small seal that submerged itself just as the ferry approached.
The trail system in south Port Gamble is wonderful. With trails like Mordor, Drop trail, Yellow Jacket, and Derailleur, it has a vast [4 square mile], and varied network of trails that weave and descend, climb and reveal. From tight, overgrown tunnels of ferns and shrubs, to wide-open fields of grass, this is one awesome place to ride. In all honesty, more than a day is required to explore it all.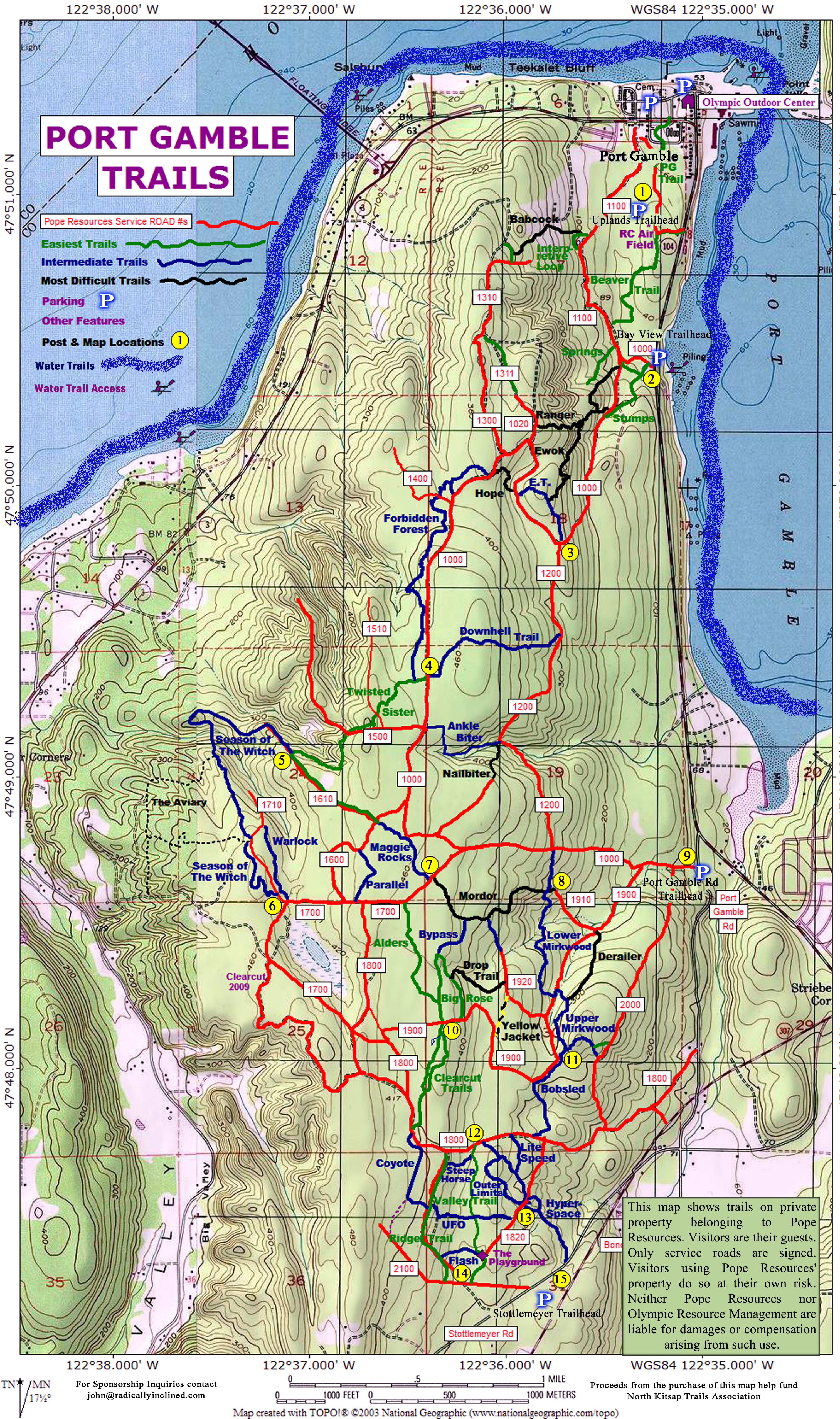 The ferry ride home was equally nice, except for the smell, which was this awful, pungent, rotten… spandex… biker… sniff … I need a shower. And to burn these clothes. Anyway, I rode inside the cabin and watched as Mount Rainier disappeared behind the horizon. At this point I was fatigued, and honestly, not looking forward to the 1,000 ft. of climbing and 9 miles left in front of me. Sheer determination got me there, however, and a warm shower and comfy sweatpants were a welcome indulgence.
Coffee. I think I know why people drink it. I'm still boycotting Starbucks, though :).